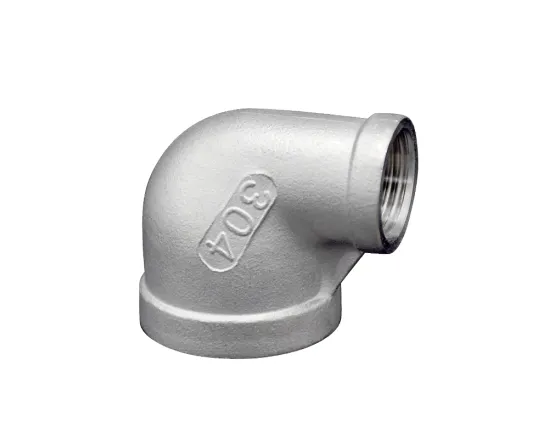 Stainless Steel 90 Degree Reducing Elbow
What is Threaded Pipe Fittings?
Leadtek Manufacture Threaded Pipe Fittings widely used in water, oil, gas media pipeline.The connection end is threaded(BSPT,BSPP,NPT,DIN259/2999,ISO228 etc).Female(Inside Thread) & Male(Outside Threaded) all machined by CNC Machining. These Items including with Elbows, Tee, Socket, Reducing Nipple, Union, Bushing, Hose Nipple(King Nipple), Reducing Socket and so on.

Stainless Steel 90 Degree Reducing Elbow FF
Size: 1/4"x 1/8"- 4"x 3"(DN8 x DN6 - DN100 x DN80)

Max Pressure: 150PSI

Standard: ISO 4144

End connection: BS21(BSPT & BSPP), ANSI B2.1(NPT), DIN259/2999,ISO 228

Investment Casting Body

Material: SS304(CF8,SUS304,1.4308),SS316(CF8M,SUS316,1.4408), SS304L,SS316L

OEM is acceptable and manufactures special requirements according to your drawings.
| | |
| --- | --- |
| Certificates: | ISO9001-2015,ISO14001-2015, CE & KC |
| Square: | 6600 M2 |
| Casting: | Investment Casting Foundry-Wax Lost Technology |
| CNC Machine: | 70 Sets (Still updating) |
| Pressure Testing Machine | 4 Sets |
Size T1 x T2

DN

D

D1

a

b

1/4"x 1/8"
8 x 6
18.0
14.5
18.0
18.0
3/8"x 1/8"
10 x 6
21.5
14.5
19.0
20.0
3/8"x 1/4"
10 x 8
21.5
18.0
20.0
22.0
1/2"x 1/8"
15 x 6
26.5
14.5
23.0
22.0
1/2"x 1/4"
15 x 8
26.5
18.0
24.0
24.0
1/2"x 3/8"
15 x 10
26.5
21.5
26.0
25.0
3/4"x 1/4"
20 x 8
32.0
18.0
26.0
27.0
3/4"x 3/8"
20 x 10
32.0
21.5
28.0
28.0
3/4"x 1/2"
20 x15
32.0
26.5
29.0
30.0
1"x 1/4"
25 x 8
39.5
18.0
29.0
30.0
1"x 3/8"
25 x 10
39.5
21.5
31.0
31.0
1"x1/2"
25 x 15
39.5
26.5
32.0
33.0
1"x 3/4"
25 x 20
39.5
32.0
34.0
35.0
1-1/4"x 3/8"
32 x 10
48.5
21.5
34.0
39.0
1-1/4"x 1/2"
32 x 15
48.5
26.5
34.0
39.0
1-1/4"x 3/4"
32 x 20
48.5
32.0
37.0
40.0
1-1/4"x 1"
32 x 25
48.5
39.5
40.0
42.0
1-1/2"x 3/8"
40 x 10
55.0
21.5
35.0
42.0
1-1/2"x 1/2"
40 x 15
55.0
26.5
35.0
42.0
1-1/2"x 3/4"
40 x 20
55.0
32.0
38.0
43.0
1-1/2"x 1"
40 x 25
55.0
39.5
41.0
45.0
1-1/2"x 1-1/4"
40 x 32
55.0
48.5
45.0
48.0
2"x 1/2"
50 x 15
67.0
26.5
36.0
48.0
2"x 3/4"
50 x 20
67.0
32.0
40.0
49.0
2"x 1"
50 x 25
67.0
39.5
43.0
51.0
2"x 1-1/4"
50 x 32
67.0
48.5
47.0
53.0
2"x 1-1/2"
50 x 40
67.0
55.0
51.0
54.0
2-1/2 x 1/2"
65 x 15
84.0
26.5
47.0
60.0
2-1/2"x 3/4"
65 x 20
84.0
32.0
47.0
60.0
2-1/2"x 1"
65 x 25
84.0
39.5
47.0
60.0
2-1/2"x 1-1/4"
65 x 32
84.0
48.5
52.0
61.0
2-1/2"x 1-1/2"
65 x 40
84.0
55.0
55.0
62.0
2-1/2"x 2"
65 x 50
84.0
67.0
60.0
65.0
3"x 1"
80 x 25
98.0
39.5
54.0
68.0
3"x 1-1/4"
80 x 32
98.0
48.5
54.0
68.0
3"x 1-1/2"
80 x 40
98.0
55.0
57.0
69.0
3"x 2"
80 x 50
98.0
67.0
62.0
72.0
3"x 2-1/2"
80 x 65
98.0
84.0
72.0
75.0
4"x 1-1/4"
100 x 32
124.5
48.5
60.0
83.0
4"x 1-1/2"
100 x 40
124.5
55.0
63.0
84.0
4"x 2"
100 x 50
124.5
67.0
68.0
87.0
4"x 2-1/2"
100 x 65
124.5
84.0
78.0
90.0
4"x 3"
100 x 80
124.5
98.0
83.0
91.0