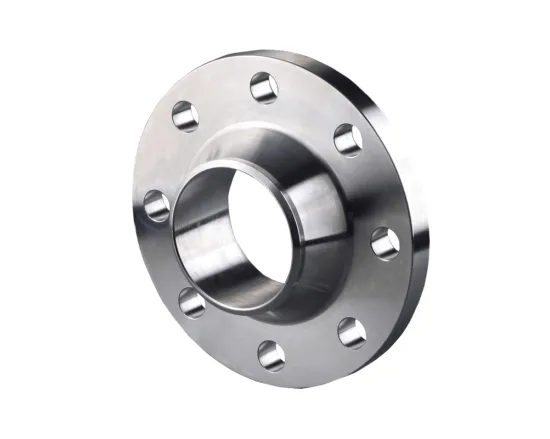 ANSI B16.5 150LB Weld Neck Flanges
What is Butt Welding Flange?
Butt Welding flange is also called high neck flange. It differs from flat welding flange in that there is a long and inclined high neck from the flange welding side to the flange. The wall thickness of this high neck along with the height and the direction gradually transitions to the thickness of the pipe wall, which improves the discontinuity of stress and thus increases the flange strength.
Butt-welded flanges are mainly used in places with severe working conditions, such as where the pipe undergoes thermal expansion or other loads that cause the flange to undergo greater stress or repeated stress changes; pipes with large fluctuations in pressure and temperature or high temperature, high pressure, and Sub-zero temperature pipes.

ANSI B16.5 150LB Weld Neck Flanges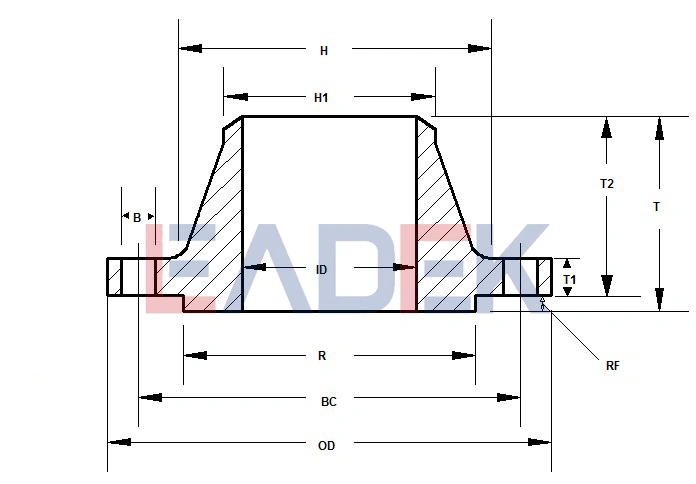 Size

Pipe OD A

OD

Bolt Circle

Bolt Hole

Sealing Face

Thickness

ID

H

T

Inch

DN

BC

B

R

RF

T1

1/2"
15
21.3
90
60.5
16x4
35
1.6
9.9
15.5
30
48
3/4"
20
26.9
100
70
16x4
43
1.6
11.4
21
38
52
1"
25
33.7
110
79.5
16x4
51
1.6
12.9
27
49
56
11/4"
32
42.4
115
89
16x4
63.5
1.6
14.4
35
59
57
11/2"
40
48.3
125
98.5
16x4
73
1.6
15.9
41
65
62
2"
50
60.3
150
120.5
18x4
92
1.6
17.9
52
78
64
21/2"
65
76.1
180
139.5
18x4
105
1.6
20.9
66
90
70
3"
80
88.9
190
152.5
18x4
127
1.6
22.4
77.5
108
70
4"
100
114.3
230
190.5
18x8
157.5
1.6
22.4
101.5
135
76
5"
125
139.7
255
216
22x8
186
1.6
22.4
127
164
89
6"
150
168.3
280
241.5
22x8
216
1.6
23.9
154
192
89
8"
200
219.1
345
298.5
22x8
270
1.6
27.4
203
246
102
10"
250
273
405
362
26x12
324
1.6
28.9
255
305
102
12"
300
323.9
485
432
26x12
381
1.6
30.4
303.5
365
114
14"
350
355.6
535
476
29.5x12
413
1.6
33.4
333.5
400
127
16"
400
406.4
595
540
29.5x16
470
1.6
35.4
381
457
127
18"
450
457
635
578
32.5x16
533.5
1.6
38.4
428.5
505
140
20"
500
508
700
635
32.5x20
584
1.6
41.4
476
559
145
22"
550
559
750
692
35.5x20
641
1.6
44.4
525
610
149
24"
600
610
815
749.5
35.5x20
692
1.6
46.4
575
664
152