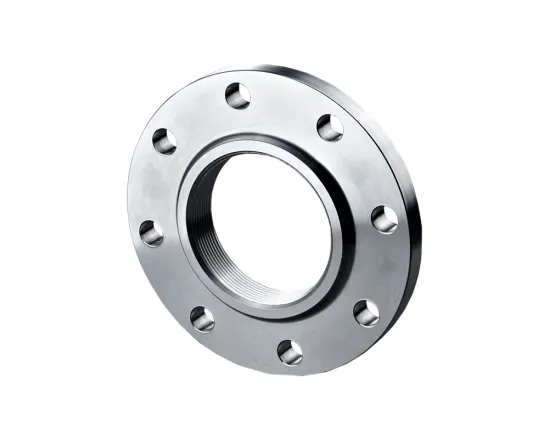 ANSI B16.5 150LB Thread Flanges
Stainless Steel Thread Flange is flange with BSPT,BSP,NPT Thread connections.
What is Thread Flange?
Thread flange is flange with thread connections. It also has FF & RF Types.
The internal hole of the flange is processed into thread and connected with the threaded pipe.
Advantage: It is convenient for installation and maintenance, it could be used on some pipelines where welding is not allowed. Such as for alloy steel flanges. As its sufficient strength, so it is not easy to weld and the welding performance also is not good. Threaded flanges can be selected.
Disadvantage: It is easy leakage if under the condition that the temperature of the pipeline changes sharply or the temperature is higher than 260 ℃ or lower than -45℃. And it is also not suitable for flammable/explosive and highly hazardous locations.

ANSI B16.5 150LB Thread Flange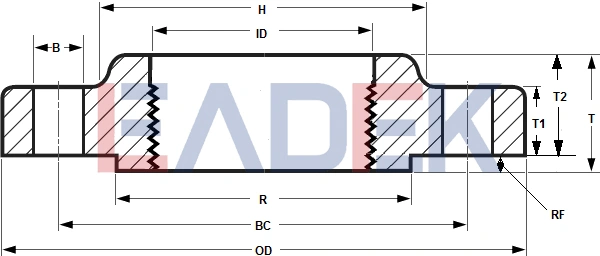 Size

Pipe OD A

OD

Bolt Circle

Bolt Hole

Sealing Face

Thickness

ID

H

T2

Inch

DN

BC

B

R

RF

T1

1/2"
15
21.3
90
60.3
16x4
35
1.6
9.6
22
30
14
3/4"
20
26.9
100
69.9
16x4
43
1.6
11.2
27.5
38
14
1"
25
33.7
110
79.4
16x4
51
1.6
12.7
34.5
49
16
11/4"
32
42.4
115
88.9
16x4
63.5
1.6
14.3
43.5
59
19
11/2"
40
48.3
125
98.4
16x4
73
1.6
15.9
49.5
65
21
2"
50
60.3
150
120.7
18x4
92
1.6
17.5
61.5
78
24
21/2"
65
76.1
180
139.7
18x4
105
1.6
20.7
77.5
90
27
3"
80
88.9
190
152.4
18x4
127
1.6
22.3
90.5
108
29
4"
100
114.3
230
190.5
18x8
157.5
1.6
22.3
116
135
32
5"
125
139.7
255
215.9
22x8
186
1.6
22.3
143.5
164
35
6"
150
168.3
280
241.3
22x8
216
1.6
23.9
170.5
192
38