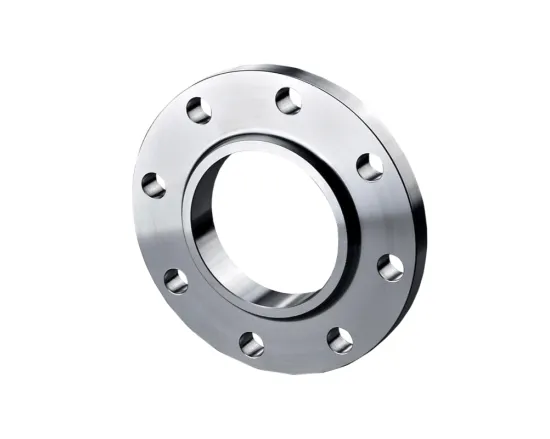 ANSI B16.5 150LB Slip-On Flange
Stainless Steel Slip on Flanges with ANSI B16.5 150LB Standard. (SO Flange)
What are Flat Welding Flanges?
Flat Welding Flange has two types, Slip-on Flange & Plate Flange.
How to lap welding the flat welding flange?
Pipe need to insert into the flange ID to an appropriate position and then lap welding.
Advantage: It is easy for welding, and the total cost is competitive, so it is widely used.
According to the internal pressure calculation, the strength of the flat welding flange is about two-thirds of the corresponding butt welding flange, and the fatigue life is about one-third of the butt welding flange. Therefore, the flat welding flange is only suitable for pipeline systems with relatively low-pressure levels and low-pressure fluctuations, vibrations and spreading.

ANSI B16.5 150LB Slip-On Flange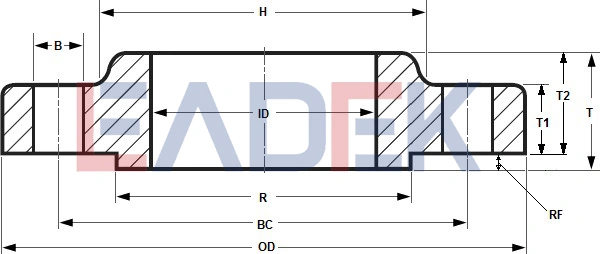 Size

Pipe OD A

OD

Bolt Circle

Bolt Hole

Sealing Face

Thickness

ID

H

T2

Inch

DN

BC

B

R

RF

T1

1/2"
15
21.3
90
60.5
16x4
35
1.6
11.5
22
30
16
3/4"
20
26.9
100
70
16x4
43
1.6
13
27.5
38
16
1"
25
33.7
110
79.5
16x4
51
1.6
14.5
34.5
49
17
11/4"
32
42.4
115
89
16x4
63.5
1.6
16
43.5
59
21
11/2"
40
48.3
125
98.5
16x4
73
1.6
17.5
49.5
65
22
2"
50
60.3
150
120.5
18x4
92
1.6
19.5
61.5
78
25
21/2"
65
76.1
180
139.5
18x4
105
1.6
22.5
77.5
90
29
3"
80
88.9
190
152.5
18x4
127
1.6
24
90.5
108
30
4"
100
114.3
230
190.5
18x8
157.5
1.6
24
116
135
33
5"
125
139.7
255
216
22x8
186
1.6
24
143.5
164
36
6"
150
168.3
280
241.5
22x8
216
1.6
25.5
170.5
192
40
8"
200
219.1
345
298.5
22x8
270
1.6
29
221.5
246
44
10"
250
273
405
362
26x12
324
1.6
30.5
276.5
305
49
12"
300
323.9
485
432
26x12
381
1.6
32
327.5
365
56
14"
350
355.6
535
476
30x12
413
1.6
35
359.5
400
57
18"
450
457
635
578
33x16
533.5
1.6
40
462
505
68
20"
500
508
700
635
33x20
584
1.6
43
513.5
559
73
24"
600
610
815
749.5
36x20
692
1.6
48
616.5
663
83